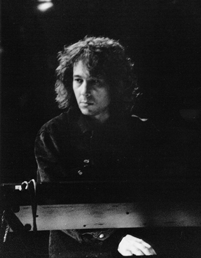 In December 2004 Richard Barbieri, while on tour in Europe, kindly agreed to answer questions provided by members of the Yahoo! Discussion group "Japan Pioneers"
Q: A lot of the people who visit the Nightporter website do not have a great knowledge of your activities beyond the work on the Medium label with Steve and Mick, can you give us a rundown of your most recent projects?
I joined Porcupine Tree roughly around the same time as Medium started up and so that took up a lot of my time during that period and continues to do so. It's taken a long time to move the group forward but with the last album there has been some success in that we sold over 120,000 copies and now play decent venues and are nearer to putting on the kind of show we want to produce.
I've recently become more involved as a guest with The Bays which is Andy Gangadeen's improvisational electronica group. I did a couple of John Peel sessions with them and subsequently live shows. Next up is a short UK tour in May with myself and David Torn as guests.
There will be Porcupine Tree tours in Europe in April and USA in May/June.
Since making this solo album there have been quite a few offers for live shows and I write this while on tour with Blackfield. I will playing live solo shows in Japan in February, some uk dates on a bill with Tim Bowness and Theo Travis in March and a support slot for Marillion as well.
Q: The new album has an amazing clarity of sound and is pretty exciting overall, with quite a variety of styles - what are your personal highlights?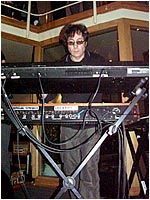 The highlights as always , for me, are when other musicians contribute. So, having Percy Jones and Andy Gangadeen in the studio working on my material was a joy.
I wanted a close dynamic feel with performances as opposed to worked out parts.
My arrangements were already there, so it was a case of giving the material a more live and human feel.
The album ended up as something different to what I had planned. I was initially intent on writing a collection of pieces in a certain stye, quite experimental, and targeting labels sympathetic to that genre.
During the recording however, I kept drifting into various styles that have always interested me and began to introduce more diversity. As a result there are very recognisable aspects of my playing that are apparent throughout.
Also an important factor was that each track is a representation of sorts of distant and recent memories that resurface strongly in my thoughts every so often.
I just went with the flow, where my mind and moods were at the time. To have diversity in material can be an album's downfall or it's strength. The important thing for me is that I"ve made it. I can learn from the experience and move on in a more creative sense from this point.
At the moment, the big learning curve for me is playing this material live and basically being onstage on my own.
Q: Why the dark title when a lot of the material is quite upbeat?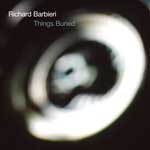 It's not intended to be dark. "Things Buried" represents vivid memories from the past that resurface every so often.So they are things buried in my mind that return to either haunt or enchant me, as opposed to things physically buried which is morbid .
Some are childhood memories, some more recent. Without lyrics the association is not so apparent maybe and things become more subtle but I've always worked in a musical sense with influences from places, emotions, atmospheres etc and I don't find it difficult to express that musically.
Q: Going back to the very beginning of your career, what can you recall about the first time you met the other guys from Japan?
David and Mick were both in my class from about the second or third year of secondary school. I don't think I socialised that much with David. I just remember him at the back of the class in the corner. Mick was the joker type, always being punished and then being demoted to lower classes. He managed to get me the cane for something I didn't do and went onto to repeat this kind of thing in spectacular fashion years later by managing to testify against me in court when he was supposed to be my witness.
I left school at sixteen and worked in a bank for just over a year, lost contact for a while until I met Mick at the station one morning and things went from there.
I do remember seeing David around that time walking about in a white suit with bright red hair. I thought he looked striking.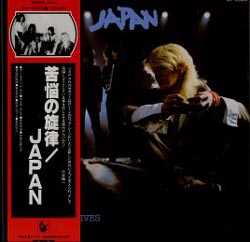 Q: The first two Japan albums have been reconsidered by a lot of people following the re-issues this year, and the popularity of similar sounding rock acts (and the young Japan fans seem to latch on to this period of the band's work). How do you feel about the first two albums now?
The first album is pretty embarrassing for me but the second showed signs of a slightly more interesting approach.
Question from Glenn: There was a dramatic change in sonic dynamics in a very short period of time between the 'Life In Tokyo' and 'Quiet Life' tours.How did this come about? Was it all down to John Punter? The reworking of 'Adolescent Sex' for the 'Quiet Life' tour, for example, was,quite frankly,a stroke of genius!
"Quiet Life" did represent a huge change in style from what had gone before.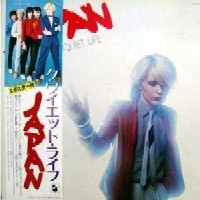 Maybe "Life in Tokyo" pointed the way to a small degree. The technology of the day is often an influence as well. I was using an analogue sequencer on a lot of the tracks. David completely changed his vocal style which was maybe the most dramatic change and the edgy guitar sounds were replaced by more textural and smoother sounds. Rob Dean used an ebow on most tracks.
The production was very eighties, lots of effects. Phasers, flangers, heavy harmonising on the vocals.
Of course the biggest change is always going to be the songwriting approach.
It was very enjoyable working with John Punter. He was a really funny guy, totally into the band and became our live engineer as well.
I have a real soft spot for the "Quiet Life" album and that period for me was the happiest time with the band.
Jason Storey: Did you make use of any new equipment/techniques on the new album or just rely on the old tried-and-true (Prophet 5, System 700, etc.)?
Actually, it's totally digital.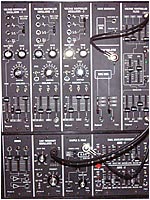 I took away the comfort factor of the old analogue gear and challenged myself to make the digital and virtual analogue synths sound as good as I could.
Are you still recording tracks to tape or have you gone digital (i.e. ProTools)?
I've gone digital. I started off the recording in Digital Performer and transferred to Pro Tools when I went into the studio.
dedanan123: Where do you get your inspiration from?
Emotions, places, images, naturally occurring sounds. I listen to a lot of music , so there is probably subconscious influences coming through as well.
Any possibility of doing another JBK album in the near future?
At the moment we are all embarking on new ventures so I can't see that happening for a while but I can easily imagine that we will do something together again in a few years time.
Questions from Rob: What did Richard think of the Japan re-issues? Anything he would have added or done differently?
The remastered and repackaged Virgin albums are really nice. "Polaroids" especially benefitted from the remastering process and sounds pretty exciting.
Not much else, if anything, that could have been added really. We were never a band that had lots of outtakes or extra tracks when it came to making albums.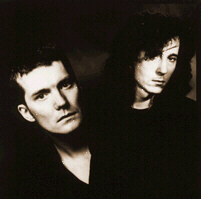 Will there be another album with Tim Bowness? Flame was excellent.
Thanks. It's not out of the question. There's just so much going on at the moment it's hard to commit to the amount of time and work involved in another album.
Will you be touring the UK with the new album or just the European dates with Blackfield?
I will do a few UK gigs in March. Some on a bill with Tim Bowness and Theo Travis' project. Art Centre type things I think. Also a support slot with Marillion on March 13th.
I'm doing live solo shows in Tokyo and Osaka in February. Thr Roland corporation invited my over to perform, using just their product of course.
I'm basically trying to play live in as many different situations as possible. I need the experience and to know if I want to continue along these lines, what's working and what's not and how I can evolve this into a full set with some production value.
Questions from Paul Jeff: What would you consider your best qualities as a musician and how has your playing changed over the years?
I think the best quality any musician can have is the ability to listen to what the other performers are doing. Sounds simple but it isn't. To be able to play around with space is very important. Knowing when not to play.
My playing probably hasn't changed that much. I'm technically better but that's not saying much ! I think there's a bit more spirituality going on with my playing. Hope that doesn't sound pretentious.
During the Japan days you were often referred to as "the quiet man". Sylvian/Karn were the public voice of the band with you and Steve often taking a back seat. Did this bother you or were you happier in the background?
I think people adopt certain roles at certain times in their life. I was quite happy being in the background. I didn't feel any less important. The audience is going to relate more to the guys at the front of the stage and often people assume they are more Important / talented. As long as there is a respect within a group for each other it doesn't matter, not to me anyway.
Favourite/funniest Japan memory?
Well it's going to involve Mick whatever the memory.
Not sure how accurate my recollections are but something I found funny was when Mick (on a flight to Japan) decided to do an intentionally horrendous job on his make up to get a laugh out of us. He comes out of the toilet all dolled up , not realizing how close we were to landing. The seat belt signs come on and he can't move from his seat. I've got a picture of him at the time.
(Note - this is not the picture but Rich, should you want to email it feel free!)
You HAVE to get rid of one piece of kit. Prophet 5 or Roland System 700?
Not a question I like, but the Prophet would have to go as the software version is very good and I use it a lot now anyway.
The 700 Lab Series is one of about 17 made I believe and sounds like nothing else to me.
Mark Williams asks: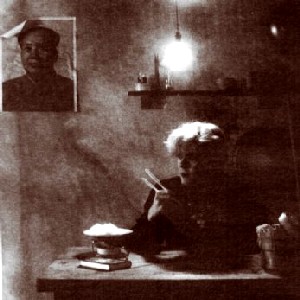 1- How did he get the sounds on Still Life when the synths go all metallic and duet with the flute sounds. Was it sequenced or all played manually.
Not quite sure that anything is dueting but I had a listen and there are clangy prophet hits which would be David and I'm sequencing a softer sound underneath and a harder percussive pattern which does alternate with the flute sounds.
Steve usually let me have 5 tries at the really percussive stuff and if I didn't get it tight enough he would step in.
There are no sequencers on "Tin Drum" , everything is played.
Also there are shamisen samples in the mix which are twangy and a bit metallic sounding.
2- How many hours does he spend tweaking and programming to get the "right" sound?
Used to take a ridiculous amount of time, When we did "Tin Drum" , David and I spent hours upon hours on sounds.
I'm a lot quicker these days, maybe it's about knowing sooner what you are after.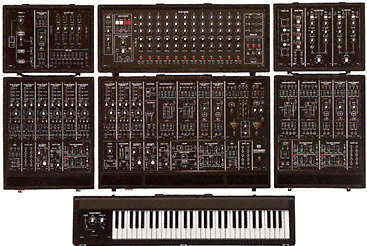 3- I think we may know the answer to this but what is his fave synth of all time.
Among my favorites are the Oberheim OBX, Prophet 5 and more recently the Access Virus range which I rate the best hardware virtual analogue synths around.
But just one -- the System 700 lab series.
One more question someone asked:
Does Richard have a copy of the "Penguin Cafe" tapes and what are they like?
I do have a copy or two of it somewhere. I listened to a bit a long while back.
It's ok in a traditional ambient sense. I think my tapes are titled "October Gallery" which is where it was originally played. Mick was running the restaurant there.
Final question from me:
If someone landed on the planet and you wanted them to hear one CD that was the essence of you and your music, which would you choose to play to them?
I'm a firm believer that the most recent work is the one that people have to hear. It may not be the best thing you have ever done but you are more connected emotionally and as a personality to your last work.
I'd be happy enough to say "this is me, this is what I do, this is where I'm at "
Sounds like a phrase from Spinal Tap.....................
Thanks for answering all the questions Richard! For more information on "Things Buried" visit Richard's website.
www.nightporter.co.uk