In Concert - 249 featuring Japan (7th February 1981 Hammersmith Odeon)
Swing
Gentlemen Take Polaroids
Alien
...Rhodesia
Quiet Life
My New Career
Taking Islands In Africa
Methods Of Dance
Ain't That Peculiar
Halloween
European Son
This disc has been bootlegged on numerous occasions, most commonly known as "Polaroid" or "Methods Of Dance". Ignore the sleeve of the latter - this show is definitely NOT from Hammersmith in 1980! The original vinyl disc pressed by BBC transcription services, catalogue number CN 3769. There are under 100 original copies in existence. Expect to pay £250 plus for an original copy.
There is also a CD version in existence - again in very small numbers - called "In Concert 249 Japan" with the catalogue number CN 3769 (same as the LP).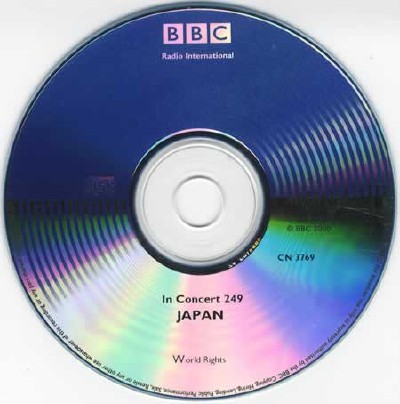 A CD was also pressed by the BBC in 1992 for broadcast purposes and contains the following:
Behind The Mask - YMO
Rydeen - YMO
Citizens Of Science - YMO
Canton Boy (edited) - YMO/Akiko Yano
Firecracker - YMO
Cosmic Surfin' - YMO (all recorded 16/10/80 at the Hammersmith Odeon)
Swing
Gentlemen Take Polaroids
Alien
...Rhodesia
Quiet Life
European Son
Only a handful of copies exist of this CD, which is in a BBC sleeve with the tracks and times typed on the front.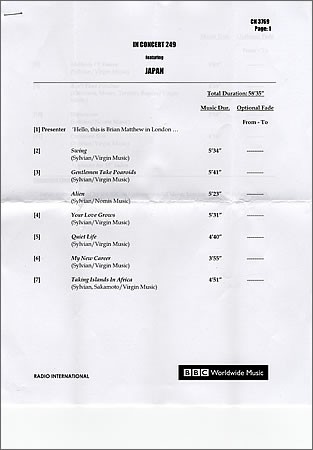 Cue sheet for the LP and CD - note that "...Rhodesia" is called "Your Love Grows" on both, something which carried through to the Hong Kong bootleg LP.