Richard Barbieri - A drifting Japanese
This interview with Richard was conducted in Sweden when he was working with the group Lustans Lakejers. The group were recording the album "En plats i solen". When released outside Sweden the band called themselves Vanity Fair, the album title "A Place In The Sun". Mick also played on the album and Nigel Walker mixed it. If anyone has a copy of the album for sale I would be very interested. Thanks to Peter Isgren for translating this article and for scanning the pictures.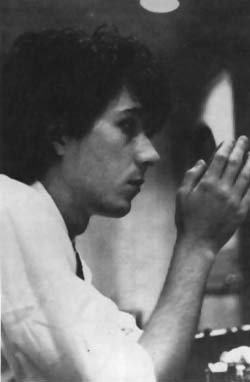 The Polarstudio, a bright summer night at the end of July. The studio is
simmering with activity. Joan Armatrading is working on her latest album in studio A. Together with her is legendary producer Steve Lillywhite. The man behind amongst other U2 and early Ultravox. At the moment his main concern seems to be the studios old pinball game.
At the Polarstudio is also Lustans Lakejer and Richard Barbieri from the
English group Japan. It's them we've come to meet. Lustans Lakejer have managed to engage Richard Barbieri as producer for the bands third album, a choice all seem happy with.
It's very important to have a producer with the same approach to the
material as we have, says Johan Kinde. A new album should preferably sound completely different to the last. This is hard to achieve with a Swedish technician who've obviously heard us before and therefore has a preconception of our sound. We were very glad to be able to get Richard. He is extremely nice and a very competent technician.
Richard Barbieri smiles shyly, and says: I've tried to work with the arrangements quite much. Most of this have gone well but it have mainly been the bands own ideas that I have helped them to fulfil. I find the first two albums quite poorly arranged. Especially the first that I couldn't even listen through. It was terrible. I can't understand why everybody says it's the groups best album. Here the conversation drifts in on the eternal discussion on "synthrock". I tell Richard Barbieri that both Lustans Lakejer and Japan is defined as
"synthbands" by the majority of the Swedish music press. He first looks at me, surprised, and then exclaims:
They're wrong. Totally wrong. What's important is how you use the synthesizer. With Japan we mainly work with sounds that seem acoustic. We could remake "Tin Drum" without any synthesizers. There would be no problems
whatsoever. The only difficulty we would have is to track down all these instruments since we use a lot of different Japanese sounds. But I can agree with you that synthesizers are misused by some bands today. Actually, most music made with synthesizers is totally repudiable. I think that this kind of music will be gone in a while, though. The synthesizer will be used in a totally different way than it is today.
Johan Kinde starts to explain how quickly the Swedish press tends to generalise and categorise. He says that the press is divided into two camps, one that accept the synthesizer and are able to see the difference in how bands use it and one that rejects this new musical tool, altogether. They deem it cold and inhuman and turn their backs as soon as they hear a synthesizer.
Richard Barbieri looks slightly surprised when he hears this. Is Swedish press really that prejudiced? You have to judge the music individually and not based on what instruments are used. There obviously are two reasons for making music. One is because you enjoy playing like most rock groups today. The other is because you want to educate your own and others senses and as we tried with "Tin Drum" use traditional music and try to revive it. Our influences on "Tin Drum" is mainly traditional Japanese music. And then there is the kind of music that obviously try to fulfil some need of toughness with the musicians and the audience, for example heavy metal music. It's the worst kind of music I think. I've never managed to listen to it. Totally pointless.
You can see the disgust in Richard Barbieri's face when he speaks of this genre. But I can't help myself for asking if not also this kind of music has the right to exist like all other music. Why should that image be any worse than the beautiful makeup and glamour image?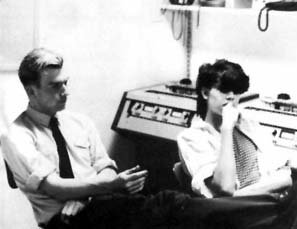 I think that this extreme need for an image is a phase that everyone goes through. I can't deny that Japan in the beginning was very influenced by Bowie and quite extreme on stage. Wearing makeup and red and blue hair. This was about eight years ago. I think there are three phases in looking for an image, first there is the false image based on insecurity. In the next phase you start to experiment with different images which is quite fun. At last you get it right, you find an image that feels natural and comfortable and which becomes a part of you. But this whole business with image and looks can sometimes be useful. For
example it attracts people who don't enjoy the music. Take the girl who sees a picture of us in this or that fanzine and thinks we're really cute. She buys "Tin Drum" only because of this and I rather see her listen to this than any album by Osmonds. It's probably better for her to.
Richard Barbieri seems to be the kind of rock star that's been through all the phases and nowadays only uses his influence in the business to do what he likes best. It's only then the new ideas can be fulfilled, before this stage the whole production is focused on sales. But the future for Japan seem a little
unsure.
There are no plans for a new album and most of the band is involved in
their own projects. Mick Karn, the bass player, is heavily engaged as a session musician and at the moment he works with Midge Ure, Phil Collins and Bill Nelson. He recently performed on television together with Angie Bowie, David Bowie's ex-wife. Steve Jansen, the drummer, is at the moment touring with Yellow Magic Orchestra in (the country) Japan and David Sylvian, the singer of Japan has recently released a solo single named "Bamboo Music".
How about Richard Barbieri's own plans for the future?
Well, I haven't really made my mind up yet, but I'd love to work on a record of my own. I will also make some movie scores. At the moment Japan is on a long tour, though, and Stockholm was visited 1st October.
What Lustans Lakejer will do now is quite obvious, if their album does well in England they will focus on an international career.
I would like to start singing in English, says Johan Kinde, and I hope the Swedish audience will accept this. If it goes really well I wouldn't mind moving to London which is the world metropolis of this business.
Richard Barbieri gets a message that he has a call from Tokyo. It turns out that it was David Sylvian who called to find out how things were going with "the Swedish group". While he talks to Sylvian we go in to the studio to listen to a few tracks.
Lustans Lakejer has certainly developed even if especially the singing at times sound almost to similar to Japan. But it all sounds very exiting and I look forward to hearing the final mix of the album.
The meeting is over, we go out and feel the warm summer air of inner city Stockholm. Behind us we leave a group that is only in the beginning of their career and a man who have seen through all the tricks of the business without getting stuck in any traps.
Text and photo: Christer Sturmark. Previously published in the magazine Heatwave, Summer 1982.
Translation: Peter Isgren