Biography
Discographies
Live History
Television
Polaroids
Articles
Carrier Bag
Links
Facebook Group
Contact
From Swedish rock magazine Schlager nr.52/12 October 1982
Photo by Lars Torndahl. Translation by Peter Isgren.

Nothing new under the sun
JAPAN Konserthuset
Stockholm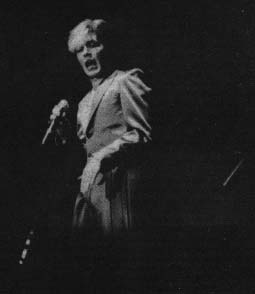 For some reason I've been placed on the sixteenth row while all other reporters sit ten rows closer to the stage when Europe's leading
Japanese soon are to entertain a full concert house. Have I've been put there because I'm half as important as the public relations people or because EMA-Telstar instinctively thinks I'm double as receptive. The guy beside me is elegantly clothed in costume and has a elegant
tape recorder so that he, later at his elegant home, will be able to listen to ambitious, stylish music there too. Besides that I get pretty disappointed at the "beautiful people", you see almost as much "beautiful" outside 1984 or the restaurant Tattersall one Friday night.
Japan is a strange band. Equipped with a sound, a supply of musical images that no other band can match when it comes to perfection, width or purity. But still, often so amazingly without character in the essential for their musical style, the melodies. The question seems to be if they are they not interested in writing melodies with character or if they are not able to. It is this that makes me rather listen to Lustans Lakejers forthcoming album, despite the fact that it by many will be dismissed as "Poor-mans-Japan". Cause even thought the sound naturally isn't as perfect in every detail, as with Japan, it has got melodies. "Art of Parties", "Still life in mobile homes", "Cantonese boy",
"Porter song" and of course their greatest song "Ghosts", sure there are moments when Japan impress with more than sound and skill.
Masami Tsuchiya is the source to some of the other moments. Tsuchiya is the borrowed real Japanese in Japan that stands, smiling and disciplined like a Japanese is supposed to. When in the next moment he goes crazy and on his knees waste away sounds from his Fender like a speeded Adrian Belew. Mick Karn, the much talked about bass player, is the source to some other. In one song it is exciting to see him, with small steps, glide over the stage like a ballerina, while maniacally staring at the audience (a stare which by the way is almost the only contact with the audience). But, by the second song I'm already tired of him and his widely acknowledged bass playing which
indeed is very special and originative (which he deserves respect for) but in the long run just as limited as all rock bass playing. David Sylvian sings reservedly and shallowed like a bleached Bryan Ferry after a visit to a modern beauty parlour. His brother, the drummer Steve
Jansen who wears headphones, spreads drum layers in stereo. He is in a double sense in the background together with the keyboardist Richard Barbieri (who produced Lustans Lakejer). Obviously I'm not very impressed by Japan, at least not live. I'm just not that interested in fashion shows. Or did I simply sit to far from the stage or to far from the nearest modern rock musician who could have told me how
impressed I should have been?

Lars Nylin

The text below the image said:
David Sylvian wander round like a shallow Bryan Ferry in a David Bowie
costume.
---
Visit Peter's David Sylvian web site at
http://www2.cybercities.com/d/davidsylvian/