Japan Live 1978

7/1/78 - The Red Cow, Hammersmith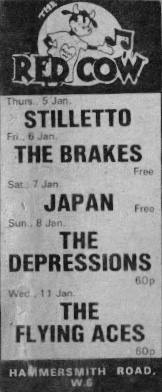 ---
11/1/78 - The Golden Lion, Hammersmith
---
21/1/78 - Loughborough College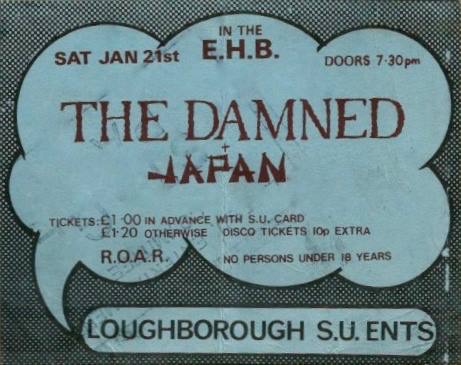 11/2/78 - College of Further Education, Oxford
with The Damned (headlining) and The Tourists (Annie Lennox & Dave Stewart)
According to http://www.whiterabbitskgs.co.uk/ The Damned played a series of dates in January and February 1978, but several later dates were cancelled, and it is not confirmed that Japan supported The Damned for all shows.
According to Mick Karn in "Japan & Self Existence" the group's dates with The Damned were cut short due to a violent incident at one concert. Read Mick's book for the gory details.
---
21/2/78 - The Brecknock, Camden, London
---
4/3/78 - Camden Music Machine, London
Supported by The Stickers
---
April - June 1978 - UK/European tour supporting Blue Oyster Cult
More information needed. During this tour Japan played mostly Odeon sized venues. Many thanks to Ralph from the Blue Oyster Cult "Hot Rails To Hull" website. Click the links below to read reviews of the shows, which include mentions of Japan. According to Ralph, who attended some of the concerts, Japan did get quite a following amongst BOC fans and he went out and bought "Adolescent Sex" and subsequent Japan records as a result of this tour. This tour took place in two legs, with the BOC playing dates in Europe while Japan remained in the UK working on the "Obscure Alternatives" album.
27/4/78 - Bristol Colston Hall
28/4/78 - Manchester Free Trade Hall or Manchester Apollo (there may have been a change of venue)
29/4/78 - Glasgow Apollo
30/4/78 - Newcastle City Hall
1/5/78 - Birmingham Odeon
3/5/78 - Hammersmith Odeon
4/5/78 - Hammersmith Odeon
30/5/78 - Liverpool Empire
31/5/78 - Edinburgh Odeon
1/6/78 - Newcastle City Hall - and see David Sowerby's pictures in the gallery
2/6/78 - Leicester De Montford Hall
3/6/78 - Bournemouth Winter Gardens
4/6/78 - London Hammersmith Odeon - a bootleg video and audio tape exists of this show where Japan are heckled by the crowd.
5/6/78 - Sheffield City Hall
Nick Huckle: "Re Dave winding up the audience during the Blue Oyster Cult tour. It wasn't just at Hammersmith that he did this. He caught on to it during the first 2 or 3 dates and tested the audience for longer and longer periods as the tour progressed. At most dates he just stood at the center mike grinning at them as they became wilder and wilder. It was a bit of light relief for the band from the largely sole destroying efforts of playing a psuedo funky set to a mainly hard rock/heavy metal type audience."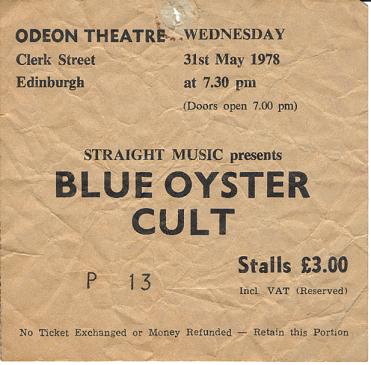 Thanks to Gary for the ticket stub image.

---
July/August 1978 - Residency - Camden Music Machine, London
This residency was supposed to last longer but the last couple of dates in the second week had to be cancelled due to Steve's appendicitis. Press adverts exist for the two later dates which may have been rescheduled to fulfil the contract with the venue. These dates were sponsored by Radio Luxembourg.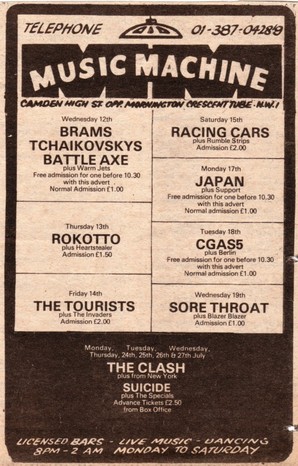 17/7/78
31/07/78 - Bootleg tape exists. Support band were White Cats.
1/8/78
2/8/78
14/8/78
31/8/78
12/9/78 - see poster further down this page

---
5/8/78 - St Albans City Hall
Supported by Moonstone
Set: Love Is Infectious, Communist China, Obscure Alternatives, Heartbreaker, Suburban Love, Suburban Berlin, Adolescent Sex, The Unconventional, Don't Rain On My Parade.
---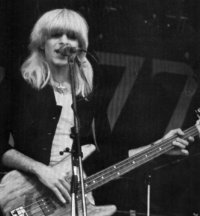 12/08/78 - Bilzen Festival, Belgium
---
August 1978 Batschkapp Club, Frankfurt, Germany
An anecdote from Simon Napier-Bell about an incident following the gig involving an out-of-control refrigerator on a roller skate can be read
here
.
---
21/08/78 - Edinburgh Rock Festival, Tiffany's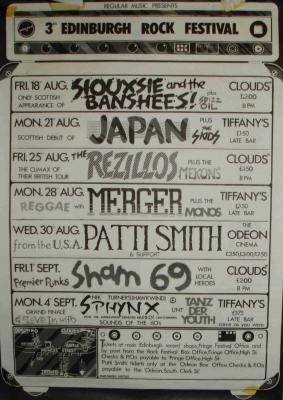 Thanks Gary for adding the date!
---
12/9/78 - Camden Music Machine, London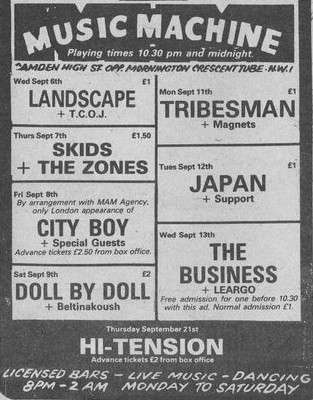 ---
18/10/78 - Dingwalls, Camden
This gig was just prior to the US tour and featured Pink Floyd's sound man Nick Griffths on the desk. Nick also did the band's sound on the US and later Japanese tour.
---

November 1978 - US Tour
6/11/78 The Starwood Los Angeles
7/11/78 Old Waldorf San Francisco
9/11/78 Chicago
10/11/78 Hurrahs New York
11/11/78 Hurrahs New York
12/11/78 Boston Paradise Rock Club. Members of Queen attended.
According to David they had planned to play Max's but this never happened. Thanks to Henk Kamps for the additional information. Thanks to Carl Mello for the Boston information. Thanks to Craig for the Geoff Barton article.

"Hip Hip Hurrahs" by Geoff Barton

"Samurai of 42nd Street" by Kelly Pike
---
November/December 1978 - "Obscure Alternatives" Tour
17/11/78 - Crumpets, Batley (Cancelled)
18/11/78 - Mayflower, Manchester (Cancelled)
19/11/78 - Leeds Fforde Green Hotel (Cancelled)
24/11/78 - Sheffield Polytechnic. The band played for about 15 minutes then left the stage unhappy with the sound. Refunds were issued to the audience.
(24/11/78 - Birmingham Barbarella's Club - this gig appears on the Obscure Alternatives flyer - this must be an error - the actual concert date was 30th Nov. On the 24th Sham 69 played Barbarellas)

25/11/78 - Southampton University (cancelled)
26/11/78 - London Lyceum. Bootleg exists, including a backstage interview.
29/11/78 - Sheffield Polytechnic (rescheduled date, see above)
30/11/78 - Birmingham Barbarella's Club - members of Duran Duran attended this gig according to John Taylor.

1/12/78 - Nottingham University
Set - Don't Rain, Love Is Infectious, Deviation, Suburban Love, ...Rhodesia, Adolescent Sex, The Unconventional
2/12/78 - Northampton Cricket Club
7/12/78 - Leeds Polytechnic
Sadly due to illness in the band, according to a fan club newsletter Sylvian had tonsilitis, several dates were cancelled. The Manchester date was cancelled due to the venue closing according to the book "Adolescent Alternatives"
Typical set: see the list for the Japanese 1979 tour, but minus European Son. The tour was supposed to continue to continental Europe and Australia, before going on to Japan, but the dates were cancelled due to Rob Dean sustaining a leg injury at the rehearsal studio.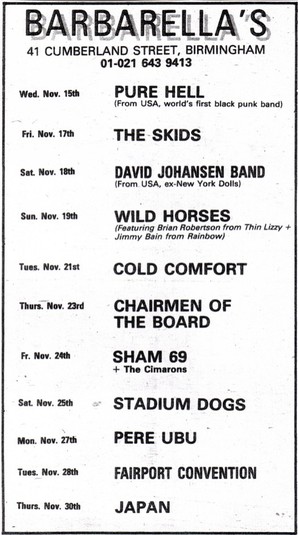 Thanks to Gary for the clipping.

---