Japan Live 1979
1979 Japanese Tour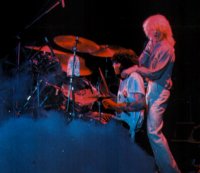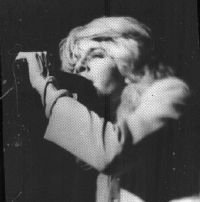 5/3/79 - Budokan, Tokyo. A bootleg tape allegedly exists of this show, but it is probably a mis-labelled version of the one below.
6/3/79 - Budokan, Tokyo. Bootlegged as "Budokan" (LP), "Big In Japan" (CD) or "European Son" (CD) from a radio show.
7/3/79 - Nagoya, Shi Kohkaido
9/3/79 - Fukuoka, Kyuden Kinen Taikukan
10/3/79 - Osaka, Bankokuhaku Hall(Expo Hall?). Bootleg CD "Heartbreaker".
11/3/79 - Osaka (different venue)
Typical set list: Don't Rain On My Parade, Obscure Alternatives, Love Is Infectious, Deviation, European Son (very different to the studio version), Suburban Love, Ballad (unreleased song), Suburban Berlin, ...Rhodesia, Sometimes I Feel So Low, Adolescent Sex, The Unconventional, Heartbreaker (Rolling Stones cover, unreleased), Automatic Gun, Communist China. This tour was well covered by the media so there are various TV and live video clips in circulation.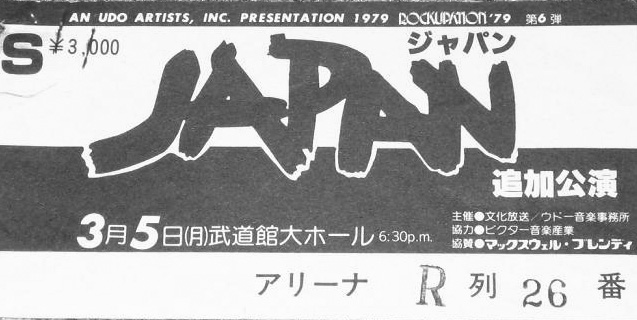 Ticket for the first night at the Budokan, thanks Alan for the image.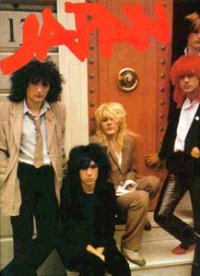 Tour programme

Thanks to Masamichi for updated information on this tour.
---



March/April 1979 "The New Rising Sound" Tour - Germany, Holland, Belgium, UK
25/3/79 - Munich - possibly 2 nights as a ticket has been found stating 26th March as the date.

27/3/79 - Berlin
28/3/79 - Hamburg Musichalle
29/3/79 - Mannheim
30/3/79 - Wiesbaden
2/4/79 - OOSTERPOORT Groningen
Review in Nieuwsblad van het Noorden (precis by Henk) - "The review says it was a disappointing concert. Less than 600 people attended the concert in the large hall of the venue. Comparison with David Bowie but Japan was missing his quality and charisma. It wasn't professional and was uninspiring. The bass player didn't tune his bass and it was sounding false. The "art-music" could be interesting, because of it's uninspiring performance it sounded desperate."
5/4/79 - Stadsgehoorzaal, Leiden - the same venue Japan played in '82.

6/4/79 - Junushoff, Wageningen
7/4/79 - Paradiso, Amsterdam - Bootleg tape exists from a radio broadcast, not the whole show. Review here.

8/4/79 - Schouwburg, Sittard - This was the last time Japan appeared in public with the full on glamour look. When they returned to London for the Rainbow gig they made a few changes (see below).
Set list: Halloween, Suburban Berlin, Automatic Gun, Deviation, ...Rhodesia, Suburban Love, European Son, Obscure Alternatives, Adolescent Sex, The Unconventional, Life In Tokyo, Heartbreaker, Communist China.
It sounds like Barbieri has acquired some new synths in Japan and the group are joined by backing singers. Definite development in their synth playing style during this tour which must have been from working with Giorgio Moroder. All of a sudden they sound like the Japan of Quiet Life! Some film clips were also specially made to be shown during this tour which so far have not been in circulation, though some stills can be seen in the 1979 gallery on this site. The group had had a change of image for the Life In Tokyo video and the first public appearance in this guise was at The Rainbow in London.
Pictures courtesy Frank Broto. Also thanks to Willem de Blaauw, Craig Hamlin and Henk Kamps for updated information, contributions and corrections.
Review of the Rainbow show from Melody Maker
Review of the Rainbow show from Sounds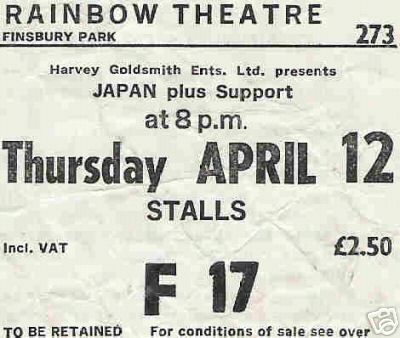 Ticket stub seen on eBay, sent in by Gary Stelling

---
16/6/79 - Maarsseveense Plassen Amsterdam
Bootleg tape exists. After a few songs David said his voice wasn't up to it and they left the stage. Information courtesy of Willem de Blaauw. Thanks to Henk for checking the date again!
---
"Quiet Life" launch shows

With guest musician Jane Shorter on saxophone
24/11/79 - Ryerson Theatre, Toronto - 6.30pm
24/11/79 - Ryerson Theatre, Toronto - 9.30pm
A ticket for this concert was recently on sale at Ebay. Many thanks to Peter Stevenson who has scanned the advertisement and two reviews for the show. Jason Nolan has provided a third review and a scan of his ticket. All can be seen if you click here. The advertisement confirms that Toronto was the last place that Japan ever played in Northern America.
---